Music chord progressions in Jazz harmony or music theory
A chord progression is popularly considered a series of chords played in some temporal order. Chords often relate to each other in some phenomenological, tonally-coherent way—though this may not always be the case, especially when discussing more complex tonal music after 1840. Chord progressions are central to most modern European-influenced music.
Generally speaking, a chord progression will invariably share some notes (assuming equal temperament), which provides linear (voice leading) continuity to the passage. In the common practice period, chord progressions are usually associated with a scale and the notes of each chord are usually taken from that scale (or its modaly-mixed universe).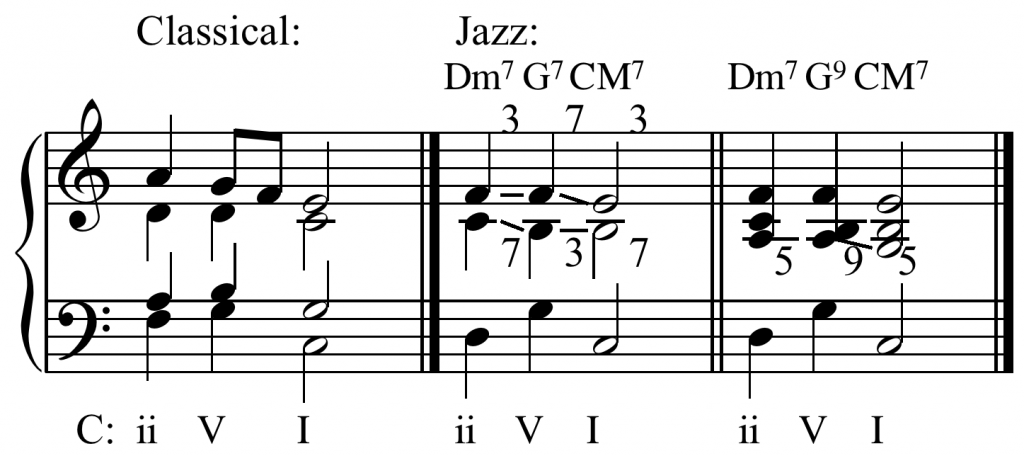 Common chord progressions
The most common chord progressions, especially in popular music, are based on the first, fourth, and fifth scale degrees (tonic, subdominant and dominant); see three chord song, eight bar blues, and twelve bar blues. The chord based on the second scale degree is used in the most common chord progression in Jazz, II-V-I.
The circle of fifths progression is generally regarded as the most common progression of the common practice period, involving a series of descending perfect fifths that often occur as ascending perfect fourths. The
circle of fifths makes up many of the most commonly used progressions, such as II6, V, I in major.
Table of common progressions during the common practice period
Table of Common Progressions
I, i
May progress to any other triad. May interrupt any progression.
Major keys
Minor keys
II
II-V, II-VII
II6
II6-V
II*
II-V, II-VII6
III
III-II6, III-IV, III-V, III-VI
III
III-II6, III-iv, III-VI
IV
IV-I, IV-II, IV-V, IV-VII6
IV
IV-I, IV-II6, IV-V, IV-VII
IV*
IV-V, IV-VII6
V
V-I, V-VI
V
V-I, V-VI
v*
v-VI
VI
VI-II, VI-IV, VI-V, VI-III-IV
VI
VI-II6, VI-IV, VI-V, VI-III-IV
VII6
VII6-I, VII6-V
VII6/VII
VII6-I/VII-III
* II and IV in minor used with an ascending #6; v in minor used with a descending 7.
Substitutions in music chord progressions
Steedman has proposed a set of recursive "rewrite rules" which generate all well-formed transformations of jazz, basic I-IV-I-V-I twelve bar blues chord sequences, and, slightly modified, non-twelve-bar blues I-IV-V sequences ("I Got Rhythm"). Important transformations include:
replacement or substitution of a chord by its dominant or subdominant:
use of chromatic passing chords:
chord alterations such as minor chords, diminished sevenths, etc.
Sequences by fourth, rather than fifth, include Jimi Hendrix's "Hey Joe".
These often result in Aeolian harmony and lack perfect cadences (V-I). Middleton suggests that both modal and fourth-oriented structures, rather than being "distortions or surface transformations of Schenker's favoured V-I kernel, it is more likely that both are branches of a deeper principle, that of tonic/not-tonic differentiation.