Parallel harmony in music theory
Parallel harmony is harmony that generally follows the melody, going up when the melody goes up and down when the melody goes down. Because parallel harmonies are not independent of the melody, they do not follow the rules of well-written counterpoint and are generally not considered to be as interesting as independent harmony parts.
However, parallel harmonies are easier to play for many instruments (keyboard instruments, guitar, dobro guitar, violin, and cello, to name just a few).
Parallel harmonies are also very easy for even the "untrained ear" to grasp, and are very common in popular and folk musics. In Western classical music, they are most common in Impressionist music and in some types of medieval chant.
Listening suggestions: parallel harmony to be heard in
Some ragtime tunes, such as Scott Joplin's "The Entertainer".
many popular "Country" music songs and modern Hawaiian pop tunes, especially in the vocals and in the dobro guitar parts, and in some folk styles (listen to the group Ladysmith Black Mambazo, for example).
many pieces for solo violin, such as Brahms' Hungarian dances (listen, for example, to the slow sections of "Hungarian Dance No. 4 in Bm").
the saxes and brass in some Big Band jazz tunes such as "String of Pearls" and "In the Mood".
in symphonic music; for example listen to the flutes in the "Dance of the Mirlitons" in Tchaikovsky's The Nutcracker, or in the "Gypsy Song" from Bizet's Carmen.
America, the Beautiful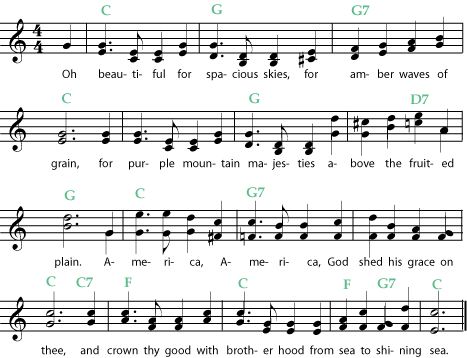 If you need to, you can listen to the melody, harmony, and both together.